Day 16: Grace is a Higher Standard
VERSE:"So, whether you eat or drink, or whatever you do, do all to the glory of God." 1 Corinthians 10:31 ESV
READ: 1 Corinthians 10:28-31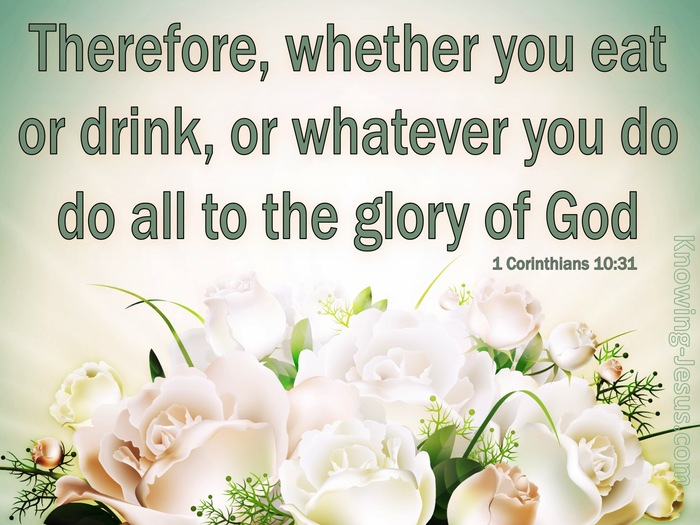 EXCERPT: I know what you're thinking. If you stop labeling foods as "good" or "bad," you'll sustain yourself on pizza, brownies, and mocha frappuccinos with extra whip (no lid, please). You can almost feel yourself gaining weight. And what about your health?! It's not pretty and it scares you.But this thought process misses one very important point. While all foods are "clean," we're called to a higher standard than external food rules. While it may feel like you're giving yourself too much slack by ditching your food labels, you're actually setting a higher standard for yourself.
When I read the verses for today I thought about one thing NOOM has been stressing to me and it goes right along with this verse…food is not either good or bad, it just is food. It's how much we eat and why we are eating whatever it is we are eating. We are on vacation this week. And one of my fears was all the "junk" food, as in "not healthy" but it hasn't been like that…we have eaten salads, seafood, lot's of protein and watching the amount of carbs (have to count those due to my diabetes) but I think we are doing okay. We have been making healthy food choices by starting with a good breakfast, helps us not to snack all day long. Making sure we are drinking lots of water. And yet having some special treats along the way, like having a

One of the decisions Ron and I made about our health was to cut back on the amount of alcoholic beverages we had been drinking on our weeks off. It wasn't as if we were getting drunk but we had been drinking four or five nights a week and there wasn't really any reason for that. We were pleasantly surprised when we checked into the hotel with free drink coupons for each night we are here in Key West…so we indulged…let me tell you that Blue Lagoon tasted good and it was enjoyable to just sit at the bar and chat with the bartender, some other guests and Ron just enjoying the evening.
GRACE IN ACTION: Before you eat (at least once today) pray for the Holy Spirit to speak His will into your heart. It may not be super-obvious, and you may need to tap into your God-given wisdom of what's godly action, but the beauty is in the try. I know that your trying touches God's heart!
Ron and I pray before every meal we eat, it's also a time to ask the Lord to protect our children and grandchildren, think of friends who might have a special need and so with the Grace in Action directive I wanted to add a little something to my prayer time and so I asked the Lord to help me with my attitude towards food…to continue to work in my heart to help me make positive choices each day, to continue to drink more water today than I drank yesterday and keep going on not eating in bed ~ 24 nights in a row now!!!

This afternoon as we were walking around Key West Ron and I had one of those moments where he was thinking one thing, I was thinking something and the roads weren't aligning. We stopped to use the restroom and while in there by myself I found myself praying "Lord, help me to just relax and enjoy the day. It doesn't matter which way we walk as long as we are together, enjoying each other's company." We met back up and Ron took my hand and we walked down the ramps to the waterfront and I felt so much peace…I am so thankful for where the Lord meets me right where I am and just how I need him.
*********
When you are feeling a bit anxious how do you calm yourself?