Day 12: Why Your Focus Matters So Much
VERSE:For I consider that the sufferings of this present time are not worth comparing with the glory that is to be revealed to us. Romans 8:18 ESV
READ: Romans 8:18-25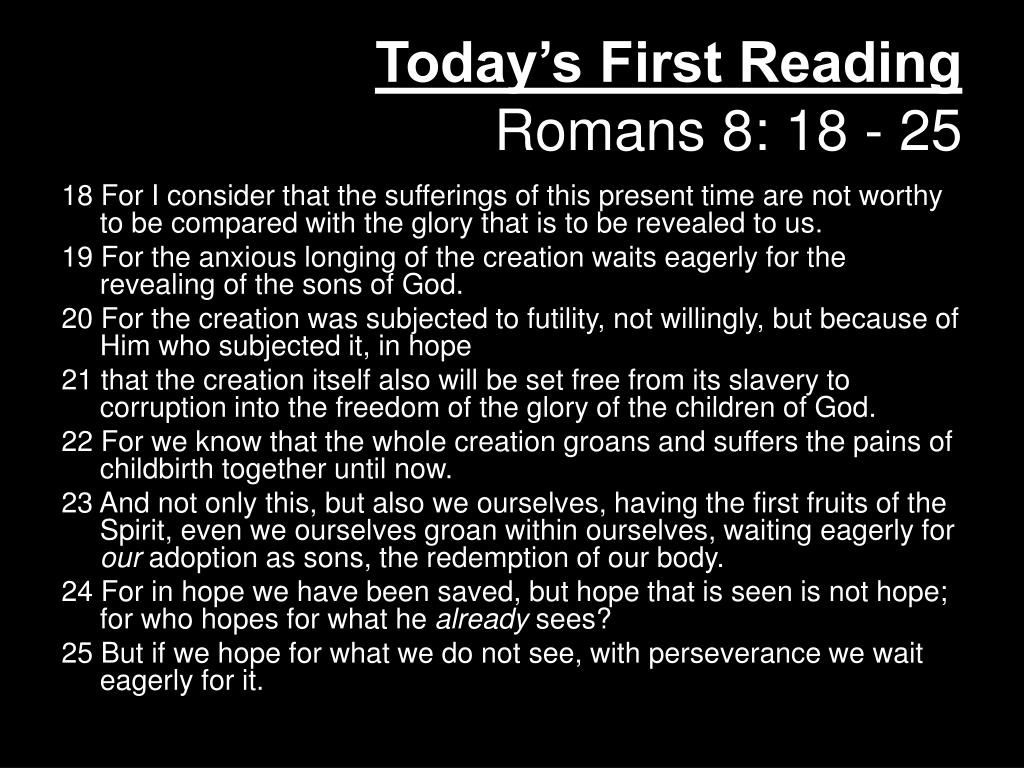 EXCERPT: What would happen if rather than focusing on the food, you thought about how amazing you'll feel when you wake up tomorrow, having made a choice you're proud of? How would it change your perception of suffering and your experience of joy?Where you focus, matters.
GRACE IN ACTION: When the desire to eat outside of your true body's needs pops up today, notice what you're thinking. Are you making resistance harder on yourself by thinking about the food and not the Father? Try shifting your daydreaming from the goodies to the "glory that will be revealed" in you!
As I read through the verses in Romans this morning one thing kept going through my mind…my focus needs to be on the Lord, on how He wants me to live, what and how I can serve others and not on me. A memory of a time when I was really struggling came to mind…our son, Jamie, was in Iraq. That was a hard year for me. I spent the. majority of my time either in bed sleeping away the day, crying, worried sick that something would happen to Jamie while he was in Iraq…let's be real, it wasn't worry that something would happen to him, it was that he was going to be killed over there. I just knew it. I lived that year mostly in worry. One early morning, about 2:30a I was up, sitting at the dining room table reading/writing and saw this car drive very slowly from around the bay towards our house, lights shining in the darkness and the car was a dark color. The car drove past, and then went a little ways and turned around and came back slowly again…like they were looking for an address. As I watched the car I noticed it was dark in color and it drove past again and then went back around the bay. A few minutes later it came down the road again, moving slowly. By then I was crying and shaking. I knew it was someone from the Army coming to tell us that Jamie had been killed. I just knew it…but the car finally drove on…I guess I didn't know.
A second time, I was washing dishes and looking out the window when a grey van drove past going towards the bay and then turned around at the corner and came back towards our place. And then they turned in the driveway…I hollered at Ron to go see what/who it was…I just knew it was the Army coming to tell me that Jamie was never coming home….it was probably just a few minutes but it felt like forever and then Ron came back into the house. The van was a DLS driver looking for an address…not the Army…again I just knew!! But I didn't know!!! Two of the hardest moments in time where I just knew! what was going on…but I didn't!!!
So often I let my mind (satan really) control my thoughts…Ron and I laugh now but there was a time when we were first married if he was late coming home. It only had to be five minutes but in those five minutes I could have him dead, buried and planning my life as a single woman!!! Because I knew…well at least I thought I did.
These verses and lesson are so timely…isn't God's timing amazing??? Once again I am in a place where I/we are not sure which road we will be taking, are we moving, staying, what job are we going to have and I am reminded to first off to

The words that come to my mind when I think of that year Jamie was in Iraq are paralyzed and scary. I don't even remember a lot of that year. I was emotionally and physically paralyzed; I spent so much time hiding in the bedroom, crying and so focused on me and what I was going through that my focus on others was little to none. I remember one day, when I was not doing well I called our Pastor and told him I was scared…I was afraid of the feelings and thoughts I was having and he told me he had a project for me.
A little bit of me…when I was in therapy my therapist and Pastor Charles both told me that one of the things they appreciated about me was that I was willing to do whatever they suggested and the day I'm referring to above was one of those days.
Pastor Charles project for me was to get out my head and help someone else. He told me to call J, tell him I wanted to come and clean his home for him. J's wife, D had passed away about six months prior to my "project." And I couldn't tell him that Pastor Charles told me to do it. So I called him and made a plan to go to his house. The scary part of going to J's was his dog, a big german shepherd, who was loveable but I was so afraid of her. So J left me some treats for her and I made my way into the house. J had some errands to run and was going to be gone for about 4 hours…so I jumped in to cleaning. I love to clean other people's homes, mine not so much, LOL. At first I remember thinking "this is ridiculous" how is this going to help me to not dwell on my thoughts and fears and yet I kept cleaning and cleaning. I found myself singing along with the radio and when I got done about three hours later my whole being felt better. I was so thankful that Pastor Charles pushed me out of my comfort zone or better yet, my pity zone. This is just one example of where I can see that by taking my focus off of myself and put on someone else. J wasn't Jesus but by taking the focus off of me and putting it elsewhere, I was allowed to share Jesus love in a very tangible way. J has since passed yet I often think of him and how special he was to Ron and I. J & D loved us as if we were their children and I am so thankful that Pastor Charles sent me J's way that day to bless him. I often think of that experience and how it "got out of me and got into Jesus."
So this lesson is a reminder to me to keep my focus on the Lord, on what and where the Lord leads us.

The other part of this lesson reminds me that I am adopted, the adopted daughter of the Lord! That he is my Abba Father, my Abba Papa and he is so much better than any earthly father could be. Another memory I have has to do with our friends, Rita & Al Roth and they adopted a little baby girl, Bonnie…and she was so loved and so wanted and it was something I wanted for most of my growing up years…to be loved by a daddy who wanted me just for me. I never totally felt loved and accepted by either of my parents. Yes it's hard to say that, but it's true and it is something I have worked through, dealt with and come to terms with…it was and is what it is. Let me add here, I have had these discussions with my parents multiple times before they passed away. And I am so thankful for Abba Papa who has loved me just for me, just the way I am.


As I look at the verse at the beginning of this lesson I am encouraged. I am encouraged to continue to seek the Lord, to keep trusting him for each and every day and every part of my life. And the verse above encourages to keep seeing the good in things, look at food as good as tool to give me energy to go through each day and to seek God to help me make the good and healthy choices not only towards food but in what and how I do things. And I'm thankful for the hope the Lord gives to me to live each day to the fullest!!!