April Fool's this year is a bit different…in years passed I have pulled a couple of jokes…like in 2011 when we were working at Lone Star Corral in Hondo, TX and I posted early in the morning that at 5:00p I was heading for home. And left it at that. I turned off Facebook. I started getting texts from friends in WA. Even got a phone call from my pal, Mary asking if we had gotten fired or quit. I did have to call Mary back and reassure her that no we hadn't been fired or even quit…it was a joke.
But the joke was on me…the person who I wanted to see it was my boss, Bonnie…she never even got on Facebook that day!!!
Another year while working at a doctor's office we "borrowed" a bunch of free samples from another office as our doctor did not believe in accepting "free samples" as he saw it as the drug companies trying to buy his business. We put pens, sticky notes, scissors, bags…you name it with a drug company's name on it, we put it around the office…he wasn't too happy but he didn't get mad either. Another prank that didn't go well.
There is always one thing I have issues with and that is when women or couples post on Facebook or Twitter that they are pregnant! AS A JOKE! In my eyes and in the eyes of many that is just not funny…as so many women/couples deal with infertility issues and yet some people still joke about it.
Today, in this season of life, in the here and now someone posted that Gov. Abbott, of Texas had stated that all students in Texas will be repeating their current grade next year since so many schools have cancelled classes for the remainder of this year…I will tell you I WAS LIVID. This very topic was something the home parents here at BBYR were just discussing yesterday as a possibility. Had the governor really thought that decision through?
I made a comment on the post stating how unfair that was to the students …. maybe not so bad for a kindergartner but kids in other grades, especially the kids who struggle so much already with school and adding distance learning which is hard on so many children and their parents and what about seniors in high school…making them repeat their final year. My mind was racing as I thought about all the repercussions that such a decision could cause.
And I thought…now that's a topic to write about on my blog. I finished my comment and hit share…nothing happened and then a screen came up saying the post had been deleted. I went to my friend's page who had posted the "announcement" and it wasn't there either. I sent Dana a PM and asked her about her post. She messaged me back "she found out it was an April Fool's joke." I replied, "so not funny," and she agreed with me…for such a time as this when so many parents and children are stressed and feeling overwhelmed what would possess someone to think saying something like that would be funny.
I found this meme…it is so true for today (sorry if some of the verbage offends you) but this is truth for today, April 1, 2020!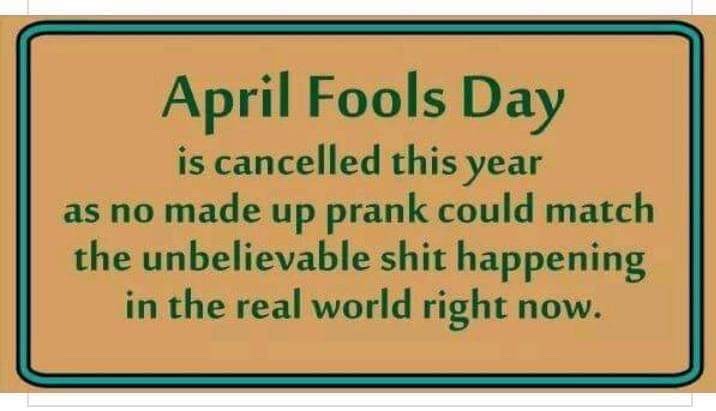 ************
I don't want to be a Debbie Downer so ask that you share a funny prank you have pulled in the past to celebrate April Fool's Day!!!