Woke up this morning
with that nagging cough in full swing, 
drank some tea and sucked on a cough drop for a bit…
and thought I am so blessed that I have one of the easiest jobs ever that even when I don't feel well I can still do my job…looking at the positive!
Another perk of my job is that I can chat with friends while I sit and drink my coffee, they understand that "truck brb" means don't leave, I will be right back, need to go check in a driver and then I come back to the conversation and we just continue…I am blessed with friends who we just pick up from where  we last left it,
not just those I chat with on Facebook but in real life too…they are the best kind of friends…who love me for me, accept me for who I am and just keep on lovin' me.
My morning routine is usually to watch last nights news while doing the daily report and then watch all my shows I record from IDHD…yes, those murder mysteries…so easy to get caught up in them, shake my head in wonder of "how could someone do ????" and then I take a glimpse back at my past and I can understand…sometimes life's pains and hurts are just too much to bear.
**see the bottom of the blog for the rest of my thoughts on this**
This morning I turned the TV off, turned on the worship music and opened my Bible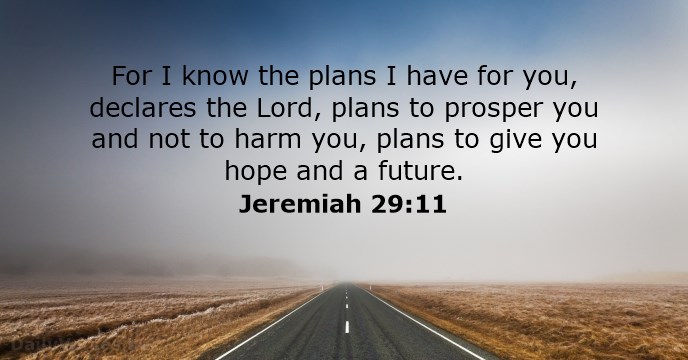 The picture reminds me of one of our first business cards we had for
"The Wandering Workentins"
as we wander through life though not alone.
In the RV lifestyle world, many of us say our plans are written in 
Jello
as life wobbles and weaves
like a bowl full of Jello!
God knows the plans He has for me/for us, 
He wants good and not disaster and He reminds us daily
my HOPE always lies in Him.
We can make all the plans we want, 
as long as we remember God's plans may not be our plans.
I have learned to be flexible when it comes to planning.
For those who have known me for a long time
can probably remember
the temper tantrums I've thrown when plans didn't go the way I wanted
(right JF!)
for flying ambrosia salad (right RW!) 
and many other occasions where the emotions took over…
BUT I am happy to say that I have learned, sometimes the hard way
how to be flexible and let go and let God!!
So keep making those plans,
I know I will,
just be open to wherever the Lord leads!!!
Next up,
I was immediately taken back to a Sunday worship service in
Federal Way where I was sitting next to Gene H.  He leaned over and said to me "do you know how to tell God has a sense of humor?"  I replied, "No" and he said oh so softly, "just look at the person you are sitting next to."  Well, needless to say I laughed out loud, which was not really appropriate to what what Pastor Dick was preaching on and got a surprised look from many.  After the service as Gene and I were walking out, Dick asked "what was so funny during my very serious point in the sermon?"  We both tried to tell him, but it just didn't seem as funny then.  
Laughter is good medicine for the soul, a broken spirit saps our strength…oh so true…I used to not laugh a lot, I hurt deep inside and I made sure others knew it, that meant it wasn't fun to be around me.  BUT I am delighted and blessed beyond measure that the Lord, through many trials and hurts led people into my life that helped me to see God's love for me and that the hurts were in the past and didn't need to continue through today.
I have learned to steer clear of situations, things, and people who cause destruction in my life and my home and my family.  
Is a verse that has guided me more and more,
sometimes I have to be reminded by others, 
pay attention girly, sometimes I need the signal (right ML!), to get back on track,
As I was reading and reflecting this morning,
so many people came to mind and I am sure there are many more who I can't remember
that have walked this journey of life with me and I am so thankful for each of you, you know who you are, some are still a major part of our lives and others were only in our lives for a season.
and with that two verses come to mind
and
which gives me HOPE for each day…
with the Lord I can do anything,
with the Lord I can have peace in my heart,
with the Lord I am blessed
and am 
What gives you hope each day?
By the way, one thing I think about when I watch those murder type shows is that anyone of those stories could be mine…
…and then I shout THANKS GOD for loving me
and bringing me through the fire!!!!